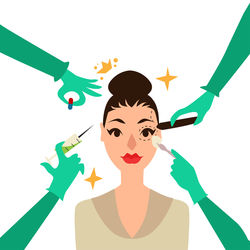 Victims of cosmetic surgery negligence can claim compensation for:
physical and psychological injuries resulting from the negligent cosmetic surgery;
medical expenses, including any costs of correcting the cosmetic surgery;
loss of earnings;
the cost of care; and
out of pocket expenses.
Compensation for your injuries arising from the cosmetic surgery negligence will normally be based on medical evidence in the form of a doctor's report. Compensation will also be awarded for any expenses or financial losses that are incurred as a direct result of the negligent treatment.
Victims will often require extensive and expensive treatment to correct the surgery and the cost of that treatment on a private basis can be added to the legal claim.
Compensation for the cost of care (or the value of any care provided by friends and family) can be claimed in addition.
Full details of your losses have to be provided, supported with invoices and receipts where appropriate, so it is important that you keep an accurate record of your losses.
Compensation for physical and psychological injury arising from negligent cosmetic surgery varies from case to case and will largely depend on the severity of the injury, the expected recovery period and the degree to which you have been left with permanent damage.
The court categorise injuries, and the amount of compensation you are entitled to claim will reflect the category that your injuries are allocated to.
As an illustration, scarring, especially facial scarring, is categoried according to how serious it is. 'Trivial scarring' usually attracts awards of up to £3,000, while the courts will award up to around £26,000 for 'significant scarring' and £85,000 for what it regards as 'very severe scarring'.
Factors such as a victim's age, gender and the part of the body affected will influence the amount of compensation the court awards for scarring. So, a young woman who suffers scarring to her face will usually receive more compensation than an old man who suffers scarring to his back, for example.
As a further illustration of how the courts categorise an injury, we can take psychological injuries arising from negligent cosmetic surgery. Psychiatric damage where the injury is classified by the court as 'less severe' will merit awards of up to £5,000, whereas a victim who suffers 'severe' psychiatric injury with very little prospect of recovering may receive in excess of £100,000 for their injuries.
And there are sometimes very wide variations within a category. Compensation for Post Traumatice Stress Disorder (PTSD) for example attracts awards ranging from anything between £3,000 through to £80,000, and beyond.
As your solicitors it is our job to obtain evidence to maximise the compensation you can expect to recover. It therefore pays to consult specialist cosmetic surgery lawyers.
Click here to discover more about How much compensation will I get for my cosmetic surgery negligence claim?
How much compensation will I get for my cosmetic surgery negligence claim?